SUPPORT OUR STRIKE 25TH JUNE – DEFEND JOBS – DEFEND EDUCATION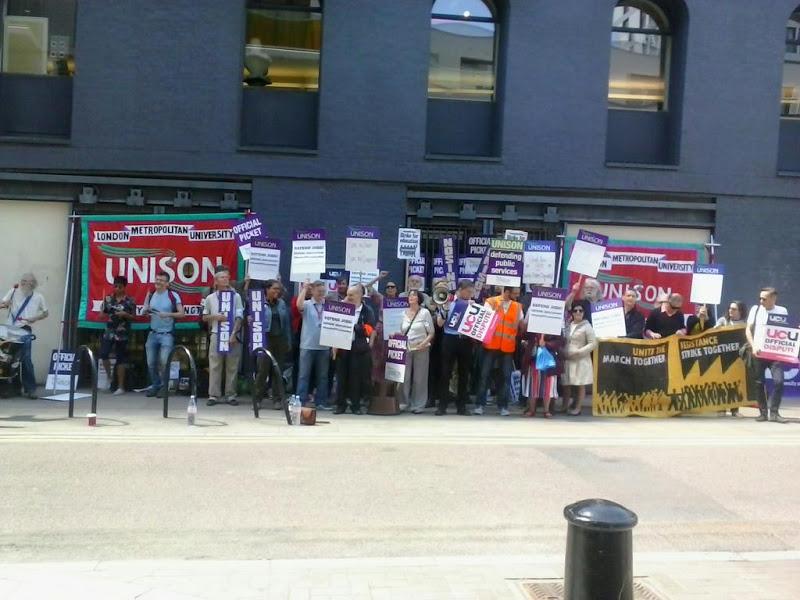 WHAT CAN YOU DO TO HELP?
1) Join our picket lines from 8.30am:
Tower Building
Rocket
Learning Centre
Moorgate, and
Calcutta House.
The Governors are still refusing to meet with or listen to UNISON so we're striking on the day students get their exam results. We will be asking students and staff to:
2) Sign the petition and share with all your networks and lobby management to resolve our dispute. 
3) Come to our Rally – when? 12.30-2pm , Where? Tower Building, 166-220 Holloway Rd, London N7 8DB
Speakers include Roger McKenzie, Assistant General Secretary, UNISON.
4) Give us your money!
If you would like to make a donation to our hardship fund please send cheques payable to 'UNISON London Metropolitan University', to Christian Manna, UNISON treasurer, London Met Uni, 166-220 Holloway Rd, London N7 8DB
5) Join the Facebook event.
6) Students can sign this statement too.
7) Tweet with  the Hashtag #HandsoffLondonMet – you can print off this leaflet and tweet a photo?
8) Come to our social afterwards
El Comandante (4pm-): 10 Annette Road, Holloway, London, N7 6ET
9) Fwd / share this page with all your networks and social media.
10) Print the attached leaflets (both our Strike leaflet and 'Actively Disengaged' leaflet) and hand out at other events.
Go to UNISON branch website for more: http://www.londonmetunison.org.uk